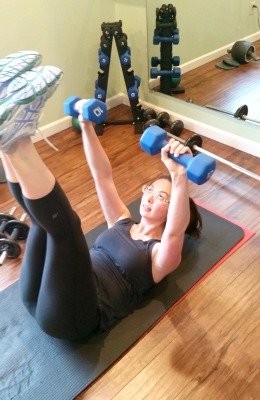 Do you wish to lose weight, increase cardio fitness, or correct posture?
Are you looking to improve core strength and/or muscle tone?
Have you been avoiding the gym because you're looking for a smaller, more personal environment?
Are you afraid that personal training is too costly?
TMC To Health provides the solutions for all of your personal training and wellness needs. At TMC To Health, we are committed to helping you achieve your personal best, at whatever level you desire. Personal training is not about getting skinny; it's about looking and feeling healthy, strong, and energetic. It's time to feel good about your body again. So, forget the scale and start focusing on you!
At TMC To Health, we customize individual plans that are unique to each client, whether you want to lose weight, increase strength, improve endurance, or tone up. With your personal plan, we will help you to lose the fat and increase muscle tone and strength.
We offer personal training by a woman for women in a quiet, comfortable, and personal space. Our studio offers a warm, welcoming, and non-pressure environment. In addition, you have the choice to train at our place, or we can come to you for training in your own home.
During the sessions, our female personal trainer will show you how to perform exercises correctly to gain strength and avoid injury during weight training. We focus on using free weights, exercise bands, and your own body weight to do the job.
Remember that personal training is for everyone! Whether you are a woman in your 20s, 70s, or somewhere in between, our female personal training will help you with core strength, cardio, muscle tone, back issues, or balance training for seniors.
Our overall focus and goal is for you to look and feel better, be healthier, be stronger, be more fit, and have more energy!
Contact TMC To Health today for a personal training appointment:
Call (425) 220-7881 • Email • Use our online form
Fill out our "Readiness to Change" questionnaire to find out if you really are ready to change your life!
Personal Training
Available in our studio or in your house
Personal training with TMC To Health includes:
• New client consultation
• One-on-one personal training
• Body composition testing
• Accountability
• Coaching
• Scheduling flexibility
Ready to Change My Life Program

Ready to Change My Life includes:
Private training sessions
Nutritional counseling
Meal planning
Three body composition assessments
Wellness coaching
Regularly scheduled visits
Personal Accountability
Coaching